Looking for low cost, high-impact resources for earning PMI PDUs? Here's a compliation of some of the best resources I've come across to earn units for PMP or PMI-ACP certification renewal.
Coursera
Coursera provides users access to courses from universities and educational institutions around the world.
It offers several PMI-approved courses where you can earn a substantial number of PDUs due to their length (these are pretty in-depth offerings). As a result they generally tend to be high effort but offer a higher PDU count in return.
I've included an example below: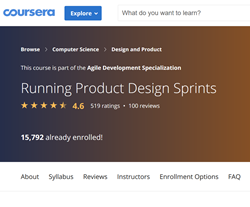 Coursera
Learn how to uncover new product insights by conducting design sprints.
Technical: 15 PDUs Leadership: 5 PDUs Strategic: 5 PDUs Level of effort: Medium Time to complete: High Cost: Low
A great feature of Coursera is the ability to have a 7-day free trial of the course you're interested in to understand if it's a good fit. If you decide to proceed with a course, the prices range from $29 – $99. If you'd like to get a specialization (by completing a series of courses), then the prices range from $39 – $79.
I've compiled a playlist of PMI-approved courses offered by Coursera that will allow you to earn up to 110 PDUs.
---
LinkedIn Learning
I purchased a subscription to LinkedIn Learning (previously known as Lynda.com) several years ago to assist in learning web programming and I found it to be such an invaluable resource that I've maintained the membership ever since.
LinkedIn Learning has numerous PMI approved courses that make earning PDUs a breeze. Their courses are video-based and range from 30 minutes to 4 hours in length. Some videos include quizzes between modules but these are strictly optional to complete.
In general, LinkedIn Learning courses are shorter in length and don't require additional effort – but as a result you'll earn fewer PDUs. You can find courses there such as: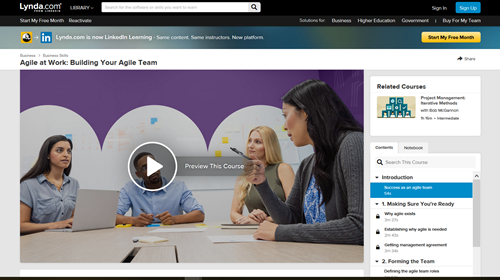 LinkedIn Learning
Tips and pitfalls to avoid when building a team with an agile mindset.
Technical: 1 PDU Level of effort: Low Time to complete: Low Cost: Low*
Generally you just need to hit 'Play', sit back and watch.
Each PMI-approved course is clearly labelled and provides you with the specific number of PDU credits that will be earned by taking the course so it's easy to know how many you need to fulfill your certification requirements.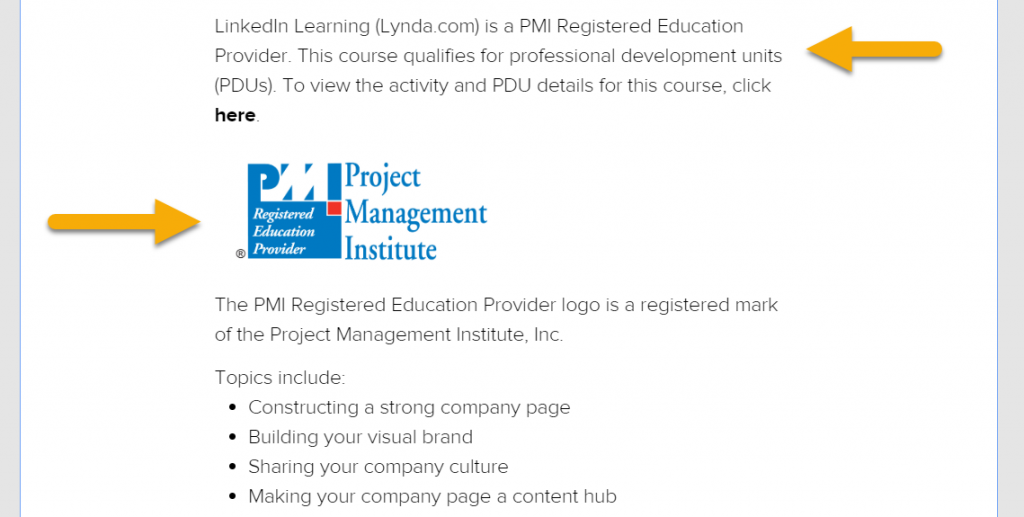 A standard LinkedIn Learning membership will cost you approximately $299 USD per year (or $34.99 per month) or you can pay for each individual course but it's well worth it for the wide range of courses it provides.
If you think that's too much: just compare the cost of a LinkedIn Learning membership and all the courses you have access to with one in-class training course, and it quickly becomes clear that LinkedIn Learning is bargain – especially when you factor in their 1-month free trial.
I've compiled a playlist of PMI-approved courses offered by LinkedIn Learning so you can easily earn PDUs.
---
ProjectManagement.com
If you are a PMI paid member then you automatically have access to ProjectManagement.com, a website that offers thousands of articles and templates to help Project Managers be successful.
In addition, the website provides access to forums, tools, events and – even better – opportunities to earn PDUs for free!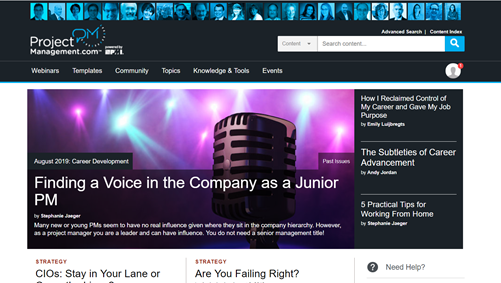 If you go to the Webinars section of the website, you'll find hundreds of pre-recorded webinars that you can watch to earn PDUs. An example has been included below.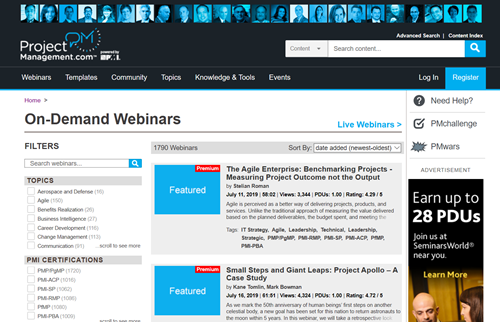 ProjectManagement.com
Learn how project management can initiate change, innovation and continuous improvement in organizations.
Leadership: 0.50 PDUs Strategic: 0.50 PDUs Level of effort: Low Time to complete: Low Cost: Free
These webinars are offered for free, however you'll only earn a minimal number of PDUs – between 0.5 and 1 PDUs per video.
Once your PMI account is linked to ProjectManagement.com and you start watching the on-demand webinars, you may have to wait 7-10 business days for the PDUs to appear in your PMI reports. You must watch the complete video in order for the viewing activity to be recorded.
It's definitely an option for people who are looking for a way to earn PDUs for free – but plan ahead as it will take a long time to do so.
A playlist of ProjectManagement.com webinars has been compiled to help you get started.